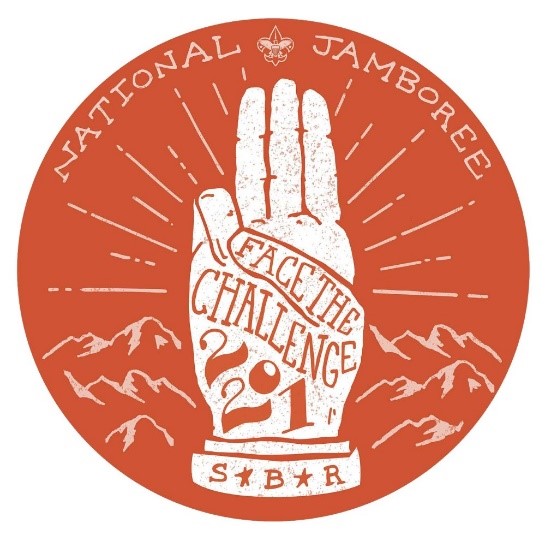 National Jamboree 2021 – Face the Challenge

Postponed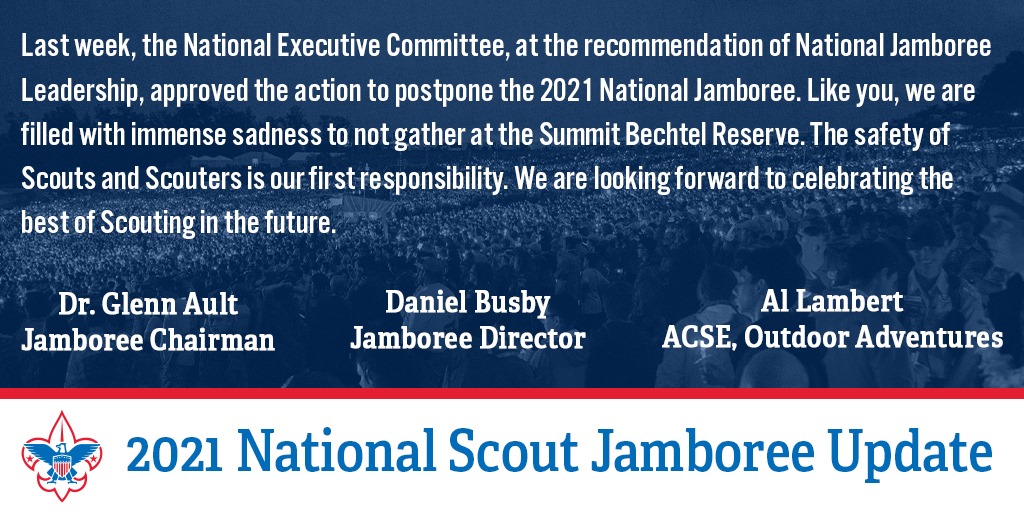 ---
Scouting's Flagship event is one-of-a-kind. It's a gathering of approximately 40,000 Scouts, leaders, and staff that showcases everything that is great about the BSA and its members. Held every four years, the Jamboree is an amazing opportunity for participants, volunteers, and visitors to experience the best of Scouting, all in one place. Features include; one of the longest zip line courses in North America, a world-class skate park, ATV offerings, treetop canopy tours, rock climbing, patch trading, stadium shows, and much more!
History of the National Jamboree
The First Boy Scouts of America national jamboree was scheduled to be held in Washington, D.C., in 1935 to celebrate the 25th anniversary of Scouting in America. Unfortunately, the jamboree was canceled because of a polio outbreak in Washington. When the first jamboree was finally held in 1937, Dan Beard lit the opening campfire using flint and steel. Scouts from all 48 states brought the wood that was used in the campfire. There were 27,232 Scouts camped on the National Mall under the Washington Monument. Since that time, an additional 18 national jamborees have been held, the last in 2017.
The SUMMIT Bechtel Family National Scout Reserve
In 2009, the BSA purchased 10,600 acres of property adjacent to West Virginia's New River Gorge National River area in order to create the Summit Bechtel Family National Scout Reserve. The Summit hast hosted the past two National Jamboree's and will be site for action, adventure, and an opportunity for scouts from all over the world to gather in 2021.
Minsi Trails Council National Jamboree Contingent
Our Council is sending one full Scouts BSA Boy Troop consisting of 36 scouts and 4 adult leaders and 2 Scouts BSA Girl Patrols consisting of 16 scouts and 4 adult leaders.
---
Scouts of Minsi Trails Council,
Our Council National Jamboree Contingent is growing with 20+ registered youth already signed up and we want to let you know that there is still time for you to register. Remember we are sending a boy and a girl Troop to the Jamboree in 2021 so all of our scouts are welcome to sign up! This is one of Scouting's greatest events, held at the Summit in West Virginia with thousands of scouts from around the world participating. You'll experience awesome activities and events at the Jamboree and if you would like to learn a little more please visit the National Jamboree website jamboree.scouting.org and watch some of the videos!
For more information on the Minsi Trails Council National Jamboree Contingent and to learn more about the registration process, please visit minsitrails.org/nationaljamboree.
If you have any questions regarding the Jamboree Contingent, please reach out to; Bill Folk, william.folk1@gmail.com, 484-695-4353 or Diane Lariar, diane.lariar@scouting.org, 610-465-8563.
Minsi Trails National Jamboree Committee
---
Click Below to visit the National Jamboree homepage and be sure to watch all of the episodes listed to learn about all of the fun things offered at the Jamboree!